Einstein was wrong! We've found something that travels faster than light!
By now, the allegation of physicists at CERN has gone viral through every major news outlet. Indeed, the announcement does more than tickle the fancy; it seems to vindicate every sci-fi fan who stubbornly insisted the light-barrier would eventually be defeated. Wormholes, hyperspace, jump-gates, or ansible chat… take your pick.
A quick recap: this September, the Oscillation Project with Emulsion-tRacking Apparatus (OPERA) announced that they have observed neutrinos traveling slightly faster than the speed of light.
How much faster? Adjusted for margins of uncertainty, 50 nanoseconds faster.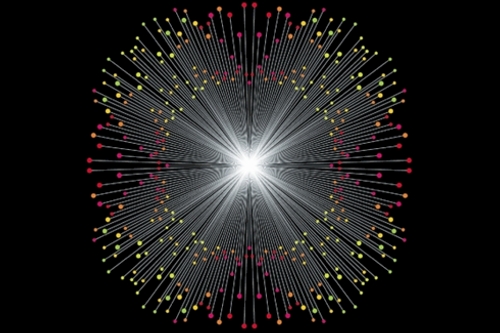 According to relativity, travel at the speed of light is impossible for an object possessing mass because infinite energy would be required to vault up to such speeds. The energy contributes to the mass, resulting in infinite mass. To exceed this barrier, you would need infinite energy plus one. We leap off the ledge of science and enter philosophy at this point: What is heavier than infinite mass?
Neutrinos have long been the odd kid in the subatomic playground. Since they're electrically neutral, they can pass through matter like phantoms. They are found throughout the universe, although the ones passing through your body right now statistically originated from the sun's nuclear reactions. Strangest of all is the question over whether they possess mass.
In fact, it is CERN which reported transformative observations in neutrinos which indicate they may have mass after all.
Mass or massless, our understanding of physics today is predicated on the light barrier being absolute. If the folks on the OPERA project are correct, then something interesting is going on.
The problem is that they are most certainly NOT correct.
Science is not a belief system, and it has no problem refining itself. When a startling new discovery is announced, we as skeptics must approach that discovery with due diligence and investigation.
And that's the real news here: the OPERA folks have a phantom on their hands — an experiment which has yet to be replicated, yet to confirmed through independent experiment. It is awaiting peer review, and their peers aren't too happy about the hoopla.
"Extraordinary claims require extraordinary evidence," said astrophysicist and cosmologist Martin Rees of the University of Cambridge. "I think it will be perceived in retrospect as an embarrassment that this claim received so much publicity—the inevitable consequence of posting a preprint on the Web."
Nobel-winning physicist Steven Weinberg of the University of Texas at Austin had this to say:
"The report of this experiment is pretty impressive, but it bothers me that there is plenty of evidence that all sorts of other particles never travel faster than light, while observations of neutrinos are exceptionally difficult. It is as if someone said that there are fairies in the bottom of their garden, but they can only be seen on dark, foggy nights."
And theoretical physicist Lawrence Krauss of Arizona State University offered the most biting commentary yet:
"It is an embarrassment as far as I am concerned. It was not unreasonable for the experimentalists to submit a paper with an unexplained result. But a press conference on a result, which is extremely unlikely to be correct, before the paper has been refereed, is very unfortunate—for CERN and for science. Once it is shown to be wrong, everyone loses credibility."
Krauss' point is the first thing that crossed my mind when I saw the blazing headlines. All the evidence,  including that collected from supernovas showering our corner of the galactic neighborhood (and which indicate that photons and neutrinos travel at the same speed) runs contrary to the OPERA claim. It would be remarkable if it turns out to be true, but it is way too early to blow the trumpets.
Arguably the best article on this right now is Ethan Siegel's take on Science Blogs.